A few weeks back I wrote about How to Look Good Pregnant. And, if you read that post, you'll know that one of my 5 strategies is to invest in a great maternity wardrobe. That sounds great to any pregnant woman—we all love shopping, right? But how can you do that without breaking the bank? My husband is currently in grad school, so I for one know what it's like to feel tied down by a tight budget. Maternity clothes can cost a small fortune: I literally feel like I'm shopping for two when I see some price tags. So today I thought I'd share my tips on how I've scored cheap maternity clothes that don't LOOK cheap.
I'm not usually the OOTD type, so I felt a little silly taking all of these pictures. I also realize I'm not exactly a fashion guru, so I may be breaking "rules" or clashing somehow in some of these pics. But the bottom line is that all these outfits are things I felt pretty in and that I didn't pay much for.
First Stop (If You're Lucky): Hand-Me-Downs
My husband is the youngest of seven, and most of his older sisters and sisters-in-law are done having kids. This has made me the lucky recipient of lots of fantastic maternity hand-me-downs. This pregnancy I also had a neighbor offer me two huge boxes of maternity things she was done with. When it comes to cheap maternity clothes, nothing is cheaper than free! So if anyone offers you old maternity clothes, say YES.
It is true that you may not love everything that's passed on. And if you don't absolutely love an item, don't feel obligated to keep it. But here are a few things I've found to be true about maternity hand-me-downs:
Hand-me-down tops are often pilled and old looking, but bottoms like jeans usually come looking great. Of the hand-me-downs I've gotten, jeans and skirts are the #1 things I've kept. This is huge because jeans and skirts also tend to be the most expensive maternity items.
Hang onto jeans even if the fit is a bit baggy. I've found that these often look great as cutoff shorts. Buying maternity shorts is frustrating because I find the length is often shorter than I want. But if you're the one wielding the scissors, you can create more of a Bermuda-style length (or whatever length you happen to want) without shelling out $50 or more.
Stop #2: Find Cheap Maternity Clothes at Discount Stores
I've found that stores like Ross, Marshall's, and TJ Maxx have great maternity clothes. You do have to do a bit of digging, and the selection of colors and sizes isn't what you'll find at a typical store. But if you do find something you love, it'll likely cost you far less than its department-store alternative.
Also, keep an open mind. This dress wasn't in the maternity section. It's generally true that squeezing into non-maternity things that are too small or simply buying normal clothes larger is unflattering, but not always! Flowy tops and dresses are your best bet for cheating a non-maternity item into your maternity wardrobe.
Next, Invest in a Few Key Pieces
Most of your maternity wardrobe can be found for a pretty low price. However, you may need to view a few key clothing items as investments. Think about the things you wear the most. For most of us, one or two pair of great maternity jeans are a wardrobe staple worth spending a little extra on. My favorite maternity jeans are from Motherhood Maternity. They tend to be pricy, unfortunately, but I found these ones to be far-and-away more flattering and comfy than anything I found anywhere else. And they do have decent sales from time to time, so watch for those if you can.
Now, consider that wardrobe "staples" vary from person to person. For example, I don't work in an office these days, so for me, investing in nice maternity slacks would be silly. But during my first pregnancy when I was working outside of the home, slacks were at the top of my must-have list. But these days I'm a stay-at-home/work-at-home mom, so I'm all about comfy jeans and skirts instead. And thanks to Santa Claus's gift of season passes to a nearby waterpark, I take my kids swimming at least once a week. So for me, spending money on a really cute and flattering maternity swimsuit was well worth it. The one I found and love is from Target. I love both the top (which is nice and long and roomy but somehow still not baggy) as well as the bottoms, which ride nicely below my bump so that I don't have an awkward mid-bump line. And both the top and bottom, which I snagged on sale back in the spring, came to right around $40. YEAH! It looks like the magenta color is all that's left in stock at this point in the season, but when I grabbed it a few months ago I opted for the solid black.
Another staple for me is a solid pencil skirt in a dark color. It's nice to be able to feel classy for dates, parties, and so on, plus I go to church weekly and need a few nice outfits to wear there. This awesome maternity pencil skirt from ASOS happens to be a bargain at just $25. It's super comfy and looks great considering that it's simple jersey fabric. ASOS also carries quite a few other colors and styles of maternity pencil skirt. I don't own any but this black one personally, but I'm willing to bet that the others are great too.
Layer & Accessorize with What You Have
Now, take a look at what's already in your closet. What non-maternity pieces do you have that you can layer? Jackets and cardigans can do a lot to make an outfit look intentional and pulled-together. Button-up shirts can also work well. I don't wear layers all day long too often since my current pregnancy falls in the hot summer months. But whenever I'm going somewhere and want to look nice, layering is one of my favorite options to make a tired clothing combo feel fresh and new and cute. Hats, scarves, bags, and jewelry are also great ways to dress up a basic outfit. You'll notice that I especially love big earrings. 🙂
Keep in mind what you have on hand as you go out and do your final step in building your maternity wardrobe. I have this yellow cardigan I love, for example, as well as a few big belts I really like. As I did my last step of shopping, I tried to think of what pieces might work with these accessories that I already owned.
Hit Target, Old Navy, and H&M for Everything Else
Hopefully, between hand-me-downs, discount stores, purchasing a few staples, and raiding your existing closet you have quite a bit to work with. But you're likely still going to need a few more things. And I've found that Target, Old Navy, and H&M are the best and cheapest places to get whatever else you still need.
For example, you're going to want solid t-shirts or tanks in not just neutral colors but a few other colors as well. These pieces can stand alone with a pair of jeans or will pair nicely with the jackets, cardigans, or jewelry you've got already. My two go-to maternity t-shirts are these v-necks from Target as well as these basic scoop neck tees, also from Target. I couldn't survive pregnancy without them.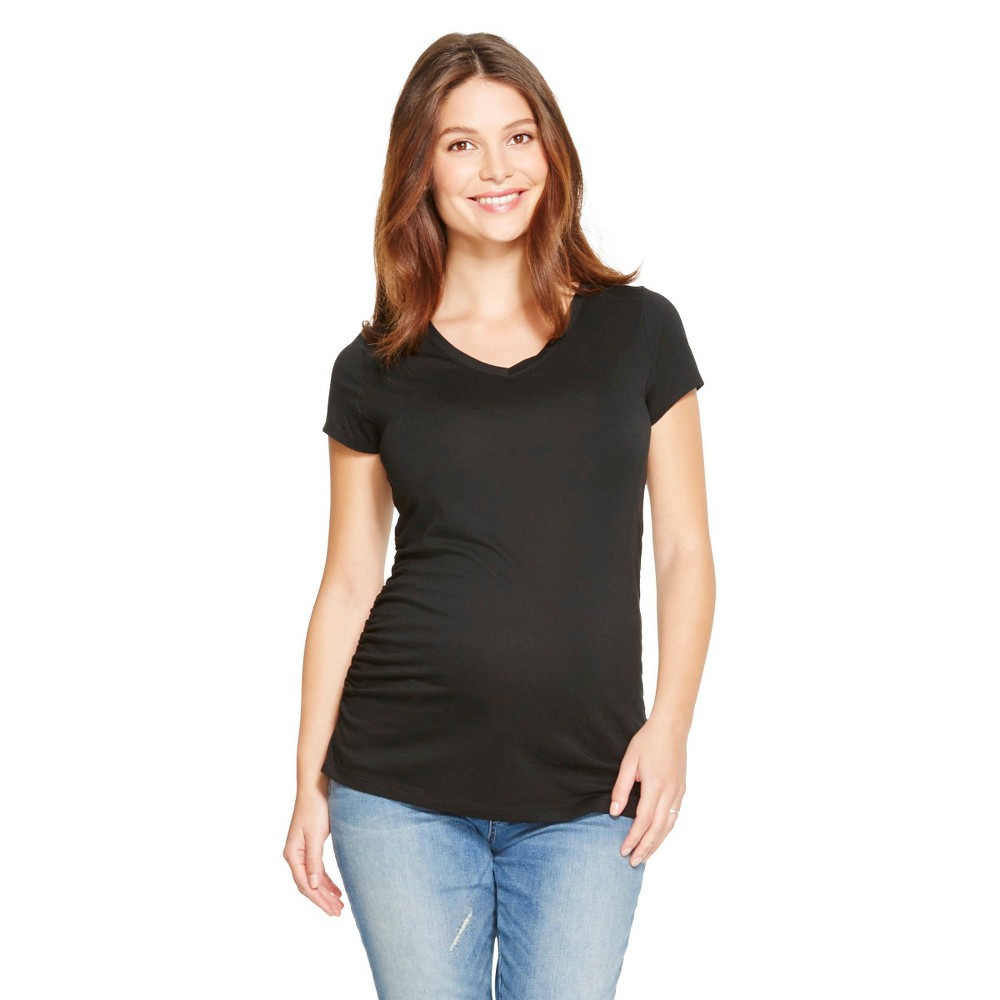 You may also want a few tops that are dressier than tees. As much as possible, try to get these things in prints and colors that could potentially layer with things you've already got.
And last of all, in addition to any more upscale dresses or skirts you may have invested in, you'll likely want some comfy, basic dresses as well. Maxi dresses and skirts are great as well as anything else that makes you feel pretty and comfortable. I find that using big belts on these kinds of pieces makes you look classy and intentional rather than frumpy. I found the best and cheapest dresses online at Old Navy.
Should I Shop Online or In-Store?
For both Target and Old Navy, you'll likely want to do most of your shopping online. Their in-store locations will likely have a small maternity section, but both offer a TON online. Better still, around holidays especially, both Target and Old Navy will offer promotions like free shipping or 30% off your entire order. I bought most of my maternity clothes this pregnancy over President's Day weekend, for example. If you can wait long enough to shop strategically, you can save a lot of money this way. Note too that Target's RedCard gives you free shipping, period. Since so much of their maternity is online-only, I'm glad I have a RedCard for this reason alone.
Also, take advantage of free return shipping. When shopping online, it can be hard to know what size to get from sizing charts alone. Simply order a few sizes of items you like and send back the ones that don't work out. (Target lets you return any unwanted items for free in-store as well, which is a major pro for me since it's both free and easy to do).
H&M is also a favorite of mine for cheap maternity clothes. I find the opposite to be true for H&M, though: I prefer to shop H&M in-store instead of online. Their clearance racks especially are goldmines. That black lace top I put at the start of this post was just $5.99 on one of their clearance racks. Crazy, right? I find that some of my cutest, most expensive-looking cheap maternity clothes have come from H&M.
Go Forth and Shop
There you have it. Armed with a specific game plan, you can now go out and shop for cute, cheap maternity clothes. Happy shopping! 🙂
Full disclosure: This page and a few others on my blog contain affiliate links. That means if you click on a link on one of my posts that takes you to another site where you buy a product I recommend, I get a small commission. I take that as a huge virtual high-five and thank you from my readers and am tickled when it happens, but I hope you know that I have a staunch policy of only including affiliate links for products that I actually own and think are incredible, as well as only linking to the best price I can find for any given product.